HOME > PRODUCT > line filter > SPLF** TYPE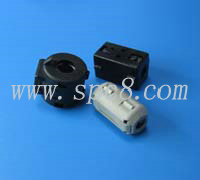 SPLF** TYPE

(1) Dataline noise filter is hinged-clamp and have a nice shape. It also have high
 performance for EMI.
(2) Internal dimensions from 1.9 mm to 35 mm radius.
(3) Precision formed smooth surface prevent damage to wire insulation.
(4) Customer disign available.

(1) Internal and external power cables.
(2) Computer peripherals digital TV, TV monitor and printer.