HOME > PRODUCT > LINE FILTER > TFH-24** TYPE

(1) Excellent frequency characteristics.
(2) Compact, and provides a large inductance.
(3) Use of insulating material having superior flame resistance.
(4) Superior board mountability.
(5) Hybrid common mode choke and normal mode choke function.
(6) Excellent dimensions and terminal pitch compatible with conventional common mode choke.

(1) OA Euqipment, Video equipment, AC adapters and other electronic equipment.
(2) Switching power sources, and switching type power supply adapters.
(3) Prevention of noise emitted from other components.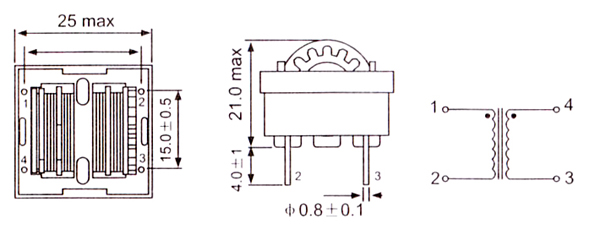 Unit in mm
| | | | |
| --- | --- | --- | --- |
| PART NO. | INDUCTANCE(mH) (~20%) | D.C.R(Ohm) max. | RATED CURRENT(A) m |
| TFH24 | 4.75 | 0.11 | 1.40 |
| TTE20 | 5.6 | 0.51 | 0.70 |
| TTE20 | 5.86 | 0.34 | 0.60 |
| TTE20 | 18.0 | 1.27 | 0.40 |